Size: H250, W280, D280(mm) / 20kg
Material: Inada stone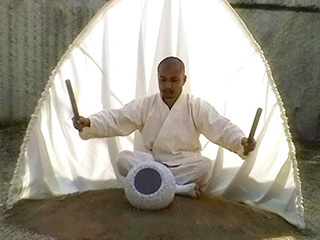 Performance art by Usi oneself.
SHU, HA, LI, KI
[SHU]
From the beginning, one lives the course of apprenticeship lead by the shepherd.
[HA]
Terrified but seduced by the esoteric force, one is perplexed yet must walk the passage to advancement.
[LI]
Accepting and aspiring to challenge the absurdities, one leaves for enduring quest to harmonize the duality.
[KI]
Emancipating from ordinary physical state, one returns to "mortal form (inner energy)" and "essence of being" which could be sensed until the end.